FastOptima Route Optimization
Powerful Route optimisation features
to help you improve utilization of your vehicles and mobile workforce while reducing costs.
One Click Planning
Simply import your orders or use the API to connect from your order processing software.
Accurate drive time
Uses actual road network with historic traffic data for accurate drive time calculation.

Optimize to your Goals
Determines best resources (truck, driver, and route) to use, and sequence of stops. Minimize drivers and vehicles to use or balance load across all drivers.
Service times & windows
Define service times required for specific customers, depots and meet delivery time windows set by customers.
Capacity
Define your own capacity dimension for your vehicles and orders whatever they may be , weight, volume, cases with multiple dimension limits.
Vehicle Types
Define your own vehicle types and capacities from delivery bikes and scooters and Autos to large cargo vans to be used in the planning.
Manual override
Plan certain orders and routes yourself or edit routes generated by the planner.
Preassigned Zones
Use preassigned zones for vehicles to only assigned orders from a zone to a vehicle.
Match Attributes
Match driver and vehicle attributes and skills to an order. Using our flexible tags for vehicles, drivers, customers, order, depots.
Book your customized demo today
Route Optimisation that delivers benefits to your bottom line.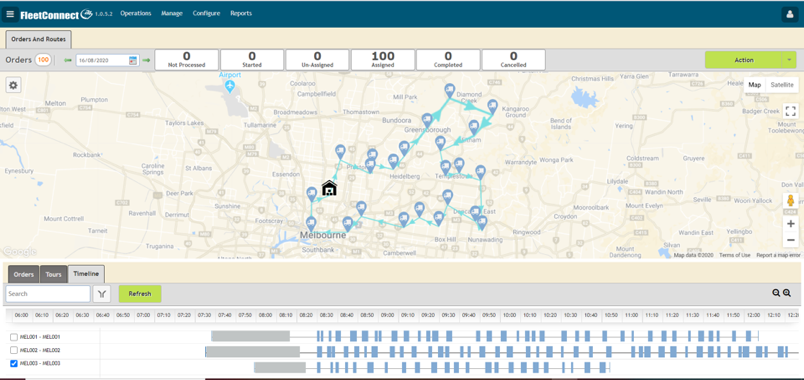 Fast
Saves time and can reduce hours spent every day creating optimal plans.
Compliance
Meet compliance norms for driver work time rules while meeting customer delivery SLAs.
Realtime visibility
View Orders for delivery on a map or by vehicle with real time updates of delivery as it progresses through the day.
Reduce human dependencies
No need for expert planners to plan your daily deliveries.
Explore new models
Helps you to explore new models like using a mix of delivery executives and your own fleet, using feeder trucks along side smaller vehicles like Bikes, Small delivery vehicles and UTEs
Reduce Cost to serve
Right size your delivery vehicle fleet and improve your order fulfilment rates while reducing cost to serve.
Better Customer service
Meet your contractual performance goals, improve on time performance rates and reduce wait times.
Accurate ETA
Provide customers with ETA for deliveries orders, jobs, and routes.
Driver Mobile App
Driver mobile app to provide driver job sheet, turn by Turn navigation, update delivery orders and capture Proof of delivery. (Beta)